World Class at Every Turn
The condo and resort are located in one of Maui's finest areas with the island's best rating for comfortable temperatures & dry sunny weather:
General condominium features:
Spacious accommodations in upscale private oceanfront penthouse.
Convenient direct oceanfront proximity, about forty feet from golden sand beach.
Unsurpassed ocean views of three neighboring islands, sunsets and Mt. Haleakala.
Desirable top floor location on building's sunny poolside.
Oceanside dining and relaxing on large oceanfront lanai.
Two view bedrooms, two Koa wood and marble accented full baths.
Available as one or two bedroom vacation rental.
Tall nine foot ceilings with fans and air conditioning.
Italian faux stone floors.
Fully equipped tiled gourmet kitchen.
Three TV's, 2 VCR's, CD player, optional data line.
Complimentary washer and dryer in condo.
Well maintained with daily or weekly maid service options.
Tropical Hawaiian decor and designer furnishings.
Competitive owner direct rates offer considerable savings over the resort prices. The rates are among the area's best in the prime luxury direct oceanfront category.
Oceanside Master Suite
Full Private bath and dressing area with marble vanity
Enjoy ocean views from the extra long luxury back supporter king bed
Tall, sliding glass doors open onto oceanfront Lanai
Remote control television
Beach towels
Private Second View Bedroom
Beautiful views of Mt Haleakala
Available with two luxury back supporter twin beds or King bed options
An adjacent full bath with marble floors and vanity
Remote Control television and VCR
Beach towels
The Polo Beach Club resort and area features:
Oceanfront convenience: Situated 40 feet from a golden sand beach, rated excellent for snorkeling and swimming.
Tropical beauty: Nearly two tropically landscaped acres of prime oceanfront property.
Poolside relaxation: Oceanside warm water pool and Jacuzzi spa.
24 Hour Security.
Complimentary shaded underground parking.
Sunny weather in tropical, quiet Wailea Makena area, renown for dry weather and outstanding beaches.
Convenient barbecue grill and herb garden on condo's side of property
Scenic beach & oceanfront walks begin at Polo Beach.
World class golf & tennis: a choice of Wailea & Makena championship clubs within three to five minutes away.
Numerous dining choices at nearby restaurants.
Full service luxury spas available at neighboring resorts.
Nearby shopping: The new "Shops at Wailea" outdoor mall is an architectural beauty filled with shops.
The condo and its resort area in a quiet "non-touristy" area. Three of our neighboring resorts are listed in Conde Nast's top ten resorts of the world, so its a nice neighborhood with a bountiful selection of activities as well as home to this outstanding vacation condo.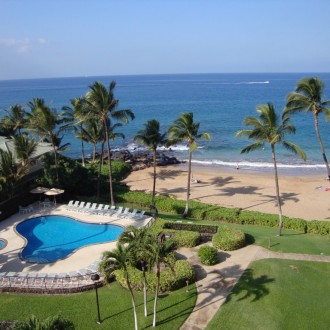 Your condo is literally 40 steps from the Pacific Ocean.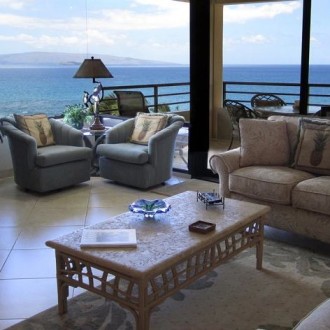 A Penhouse view of the ocean. Even the kitchen has a view of the ocean.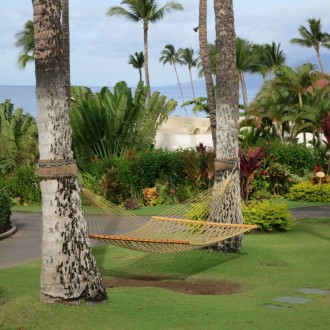 We have all the amenities you will need for your Hawaiian experience.