Only Two of You?
This is one of the few condos in Polo's highest rated category ("prime luxury oceanfront") available for rent... it's also one of the few that offers a one bedroom discount when only two people occupy the condo two weeks or longer. Please call or see rate page for details. The condo is not in the rental pool.. it's a beloved vacation home and is only available to responsible adults who are non-smokers.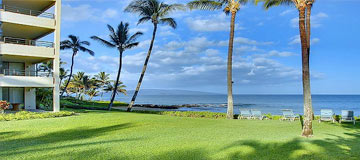 40 Steps to the Beach
You are about 40 easy steps to a delightful golden sand beach from this unrivaled top floor beachfront penthouse condo on the resort's sunny side at the Polo Beach Club in legendary Wailea Makena It's in one of Hawaii's most desirable neighborhoods on Maui's gold coast, which is famous for its sunny weather and beaches!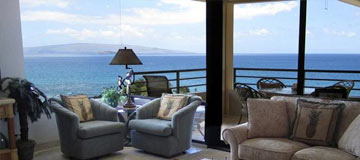 Top Floor Unit
It's tranquility without interruption since no one is above you when you stay on the top floor. From this exclusive beachfront top floor unit you'll experience 803's endless views with whales waving "hello" in season, palms swaying in the breeze and brilliant sunset colors dancing on the island's sparkling waters. Even the kitchen overlooks the ocean!
What our guests say about Penthouse 803
The Mainezennti's

Thank you very much. We had a wonderful time at the Polo Beach Club. We may become regular customers...

Rating:

Scott and Theresa

Thank you so much for the use of your beautiful Maui Condo. ... I was not prepared for the breathtaking view as we entered the condo. What a piece of heaven.

Rating:

Bart & Renee

We had a great time in Hawaii! We loved your place, views were spectacular. Also the condo was so well provisioned we couldn't believe it.

Rating:

Candy Freied

The view from 803 is so beautiful - the lanai was our favorite place! The grilling area, herb garden and grounds at Polo Beach were beautiful and well maintained. We were not disappointed.

Rating:
Condo 803 has been listed in
Best Places Hawaii since 2010
Sun-sational one or two bedroom beach condo for adults and non-smokers in one of Polo's few "prime luxury oceanfront" rental categories and  on the top floor overlooking one of Maui's top ten beaches.